Humane & Responsibly-Sourced Milk
Meister Cheese partners with a growing list of national retail and foodservice companies that are looking to offer high quality cheese produced in a sustainable manner. This is in response to marketplace demand from consumers who, in turn, prefer food that comes from animals that are comfortable and healthy. To satisfy our customers, their patrons and our own values, we developed the Cows First™ program. The Cows First™ mark symbolizes the humane and responsible sourcing of milk.
Cows First™?
Cows First™ is an innovative animal welfare program developed by Meister Cheese that encourages the fair treatment of cows in the dairy industry. Farms that are Cows First-certified produce milk of the highest quality in a sustainable manner. Meister Cheese pays premium prices to these dairy farmers, who follow Cows First™ animal welfare standards. Meister Cheese and our customers proudly display the Cows First™ logo on all cheeses made with milk from certified farms. When shoppers see this mark, they can feel good about their purchase.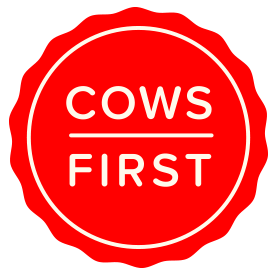 How are dairy cows treated differently thanks to Cows First™?
Cows First-certified farms treat their cows like family. The program's animal welfare standards include:
Cow behavior is never punished with intentional striking
Free-stall barns must have a stall for each animal
Loose housing must have adequate bedded space for all cows to lie down at the same time
Cows have unfettered access to a clean shelter, pasture and fresh water
No artificial hormones are allowed to increase milk production
Feed is free of animal byproducts (vegetarian-only diet)
The foundation of the Cows First™ program and Meister Cheese being a fourth-generation company just seemed like the right fit for us. Our grandfather envisioned having a grassroots family farm with profitability. That's exactly what the Cows First™ program has allowed us to achieve.

Jeremy Winkers, Cows First™ milk supplier to Meister Cheese
Are you a Dairy Producer? Find out how to become a Cow's First supplier.